Lighting Solutions
Ceilume ceiling panels are available in white, four designer colors, six faux finishes, and three levels of light-transmitting materials that offer opportunities for innovative illumination schemes.
Please see individual product pages to learn which materials are standard for each panel style, or contact us to discuss your requirements.
---
In the News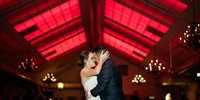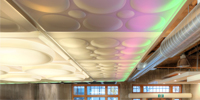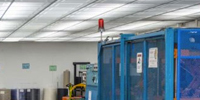 ---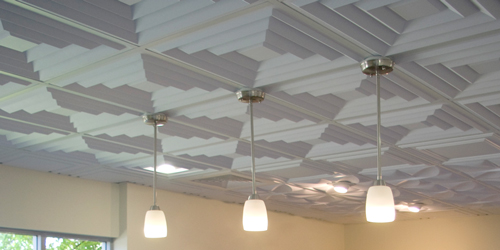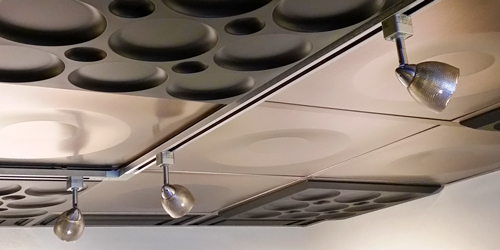 Opaque Ceilings
Bright white panels have high light reflectance for energy efficiency.
Solid colors and faux finishes satisfy any decorative scheme.
Panel's matte surface and relief cuts glare.
Molded relief casts distinctive shadows, especially when seen in glancing light.
Textured surfaces may reduce glare by scattering reflected light.
---
Transluminous™ Ceilings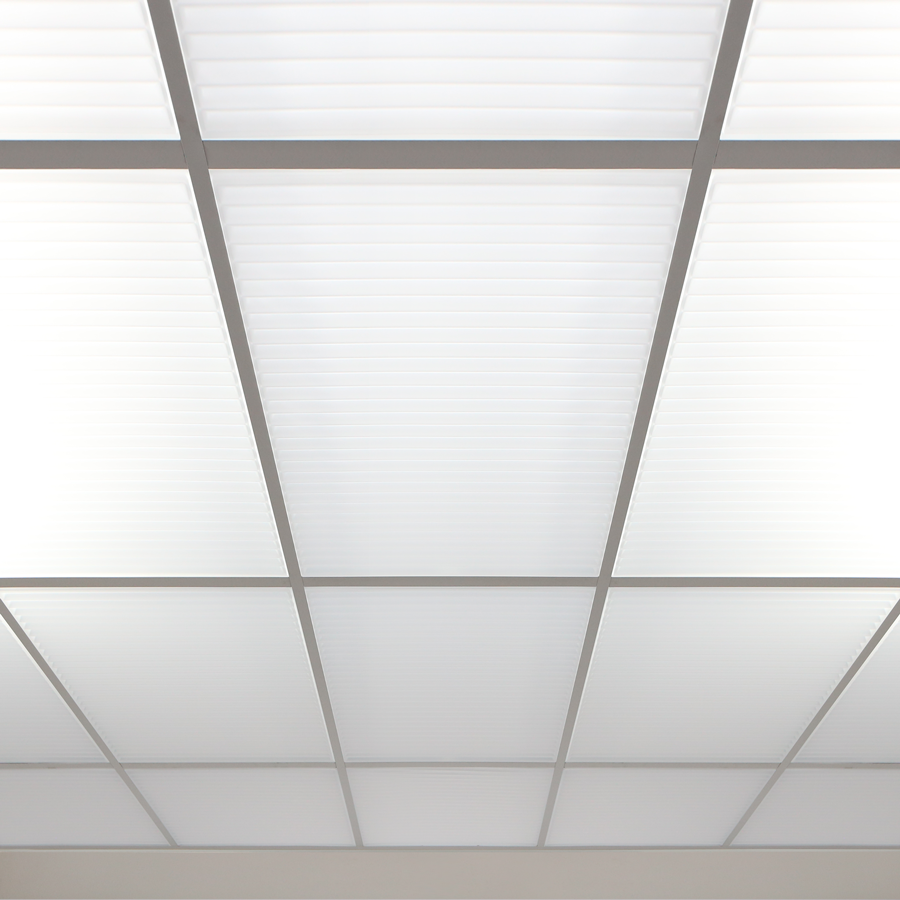 Translucent
Create a fully-illuminated ceiling with uniform lighting distribution.

49.91% reflectance, 31.62% transmittance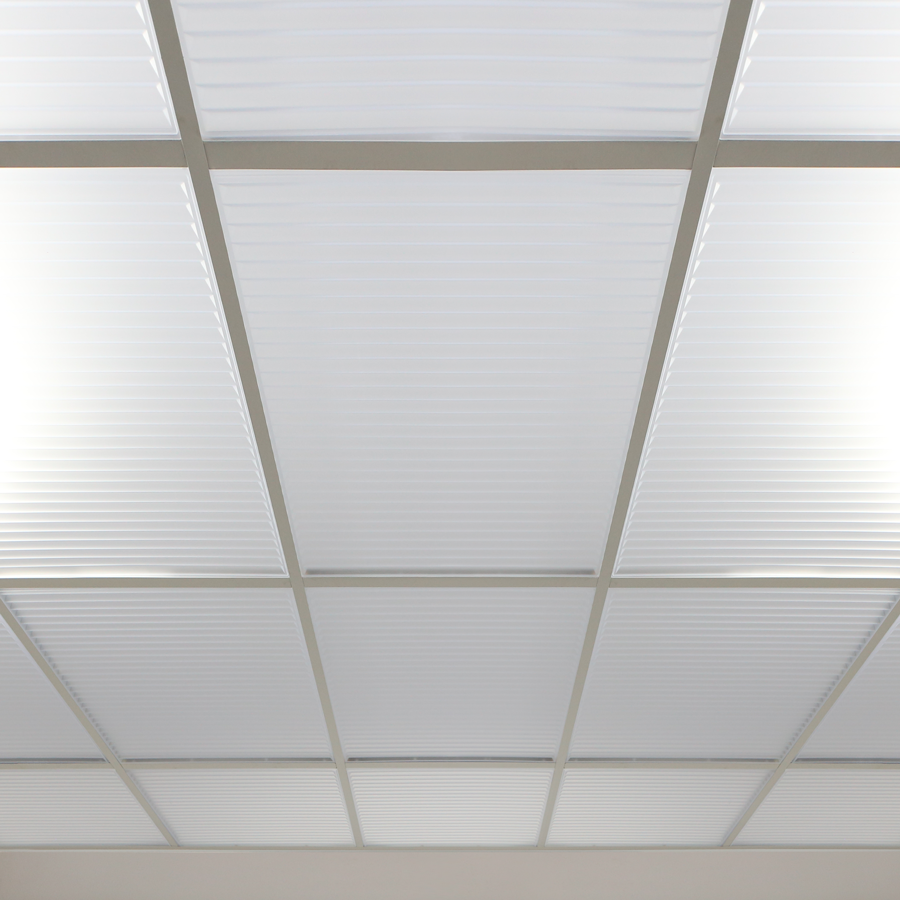 Frosted
Offer more direct lighting and reveal a hint of what is above the ceiling.

8.99% reflectance, 76.81% transmittance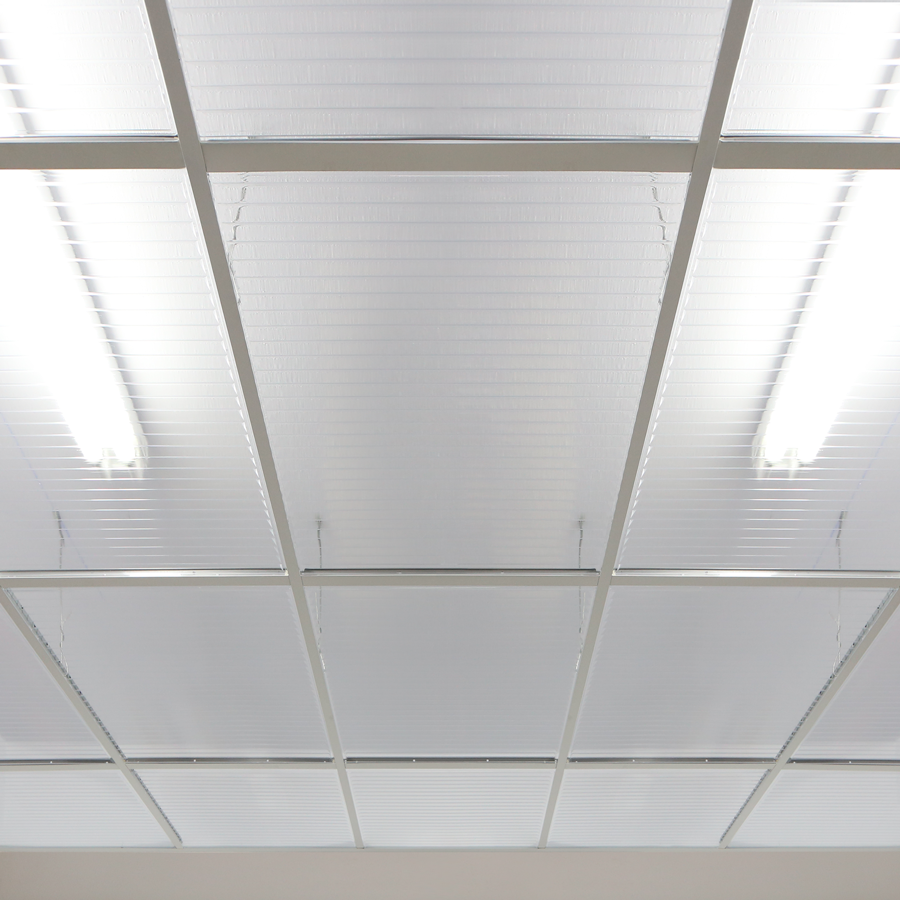 Clear
Maximize lighting and allow an unobstructed view of above-grid areas.

87.67% transmittance
---

Mix It Up
Create Patterns
Install in checkerboard, striped, random, and layouts to direct the eye, vary the lighting effect, and suit the mood of a space.
Define Areas
In a hotel lobby, for example, use opaque panels above a chandelier in the entry hall, a luminous ceiling over the registration desk, frosted panels beneath colored LEDs in the lounge, and clear panels for spotlight accents.
Wash Walls
Use clear or frosted panels along the perimeter of the room with economical above-ceiling light fixtures to illuminate walls.
---
Peek-a-Boo Panels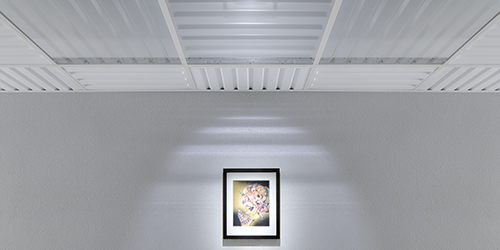 Beneath Spotlights
Install spotlights above the ceiling instead of using expensive recessed fixtures.
Beneath Equipment
Simplify maintenance by allowing valves, meters, and other above-ceiling equipment to be visually inspected from below. Stop worrying about equipment leaks; panels are not damaged by water and are easy to clean.
Beautifully Practical
Peek-a-boo panels maintain the visual and functional integrity of the ceiling plane.
---
Wayfinding
Transluminous ceilings can be a useful wayfinding tool to help people navigate through unfamiliar buildings or respond to changing conditions. In response to the COVID 19 pandemic, for example, the Facilities Guidelines Institute issued Guidance for Designing Health and Residential Care Facilities that Respond and Adapt to Emergency Conditions with recommendations about visual cues to help when patients surge into health care facilities. It says:
"New light-emitting diode (LED) lighting products provide opportunities for patient wayfinding support during an emergency event. For example, color-changing LED lighting that corresponds to the standard colors of patient triage (i.e., green for walking wounded, yellow for those who are currently stable but need care, and red for those who need immediate care) can be incorporated into the ceiling... These lights can then be activated when an emergency condition arises to immediately define pathways for staff, patients, and visitors."
Transluminous ceilings are a great companion product to use with LEDs. Economical luminares can be located above Ceilume's light transmitting panels to keep them out of sight until needed.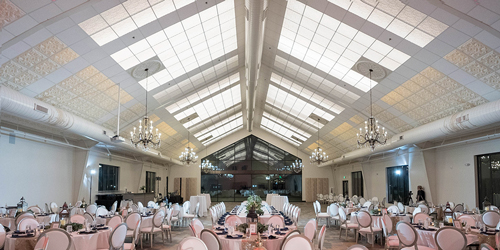 ---
Conventional Lighting
Panels are compatible with conventional lighting fixtures - recessed, troffer, pendant, uplight, and chandelier.
As with other suspended ceiling products, do not support light fixtures directly from ceiling panels. Instead, attach them to the above-ceiling structure or use approved fixture carriers.
Cut-outs for recessed can lights can be factory-made for jobsite efficiency. Contact us for additional information.
---
Technical Data
Please see individual product pages to learn which materials are standard for each panel style, or contact us to discuss your requirements.
| Color | Reflectance | Transmittance |
| --- | --- | --- |
| White | 90.44% | --- |
| Translucent | 49.91% | 31.62% |
| Frosted | 8.99% | 76.81% |
| Clear | --- | 87.67% |
White
Reflectance
90.44%
Transmittance
---
Translucent
Reflectance
49.91%
Transmittance
31.62%
Frosted
Reflectance
8.99%
Transmittance
76.81%
Clear
Reflectance
---
Transmittance
87.67%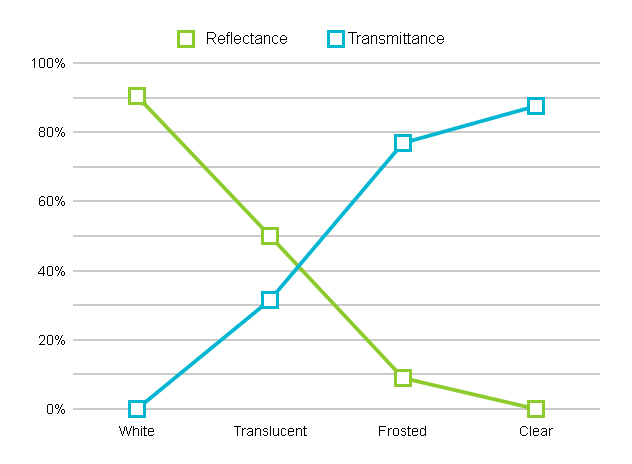 Light Reflectance
Tested in accordance with ASTM E1477

| Color/Finish | Reflectance |
| --- | --- |
| White | 90.44% |
| Sand | 83.88% |
| Latte | 33.50% |
| Merlot | 6.97% |
| Black | 5.22% |
| Translucent | 49.91% |
| Frosted | 8.99% |
| Clear | --- |
| Bronze | 11.43% |
| Copper | 57.46% |
| Tin | 36.09% |
| Sandal Wood | 47.62% |
| Caramel Wood | 18.93% |
| Cherry Wood | 6.67% |
Light Transmittance
Tested in accordance with ASTM E1348
| Color/Finish | Transmittance |
| --- | --- |
| Translucent | 31.62% |
| Frosted | 76.81% |
| Clear | 87.67% |