Indoor Air Quality
All of Ceilume's ceiling panels and tiles were tested for all individual volatile organic chemicals (VOCs) including formaldehyde, respirable particles, ozone, carbon monoxide, nitrogen oxide, and carbon dioxide emissions in a controlled and representative indoor environment that allows the product to produce the emissions in a realistic manner similar to the way the product would emit in a home or office. This process can be easily translated into real world scenarios and allows the product use to be evaluated for health, irritation, and odor concerns for a wide range of indoor environments.
---
Greenguard Gold Certification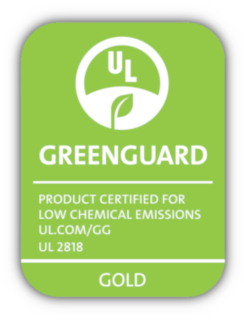 Greenguard Gold Certification offers strict certification criteria that considers safety factors to account for sensitive individuals (such as children and the elderly), and ensures that a product is acceptable for use in environments such as schools and healthcare facilities. It is referenced by both The Collaborative for High Performance Schools (CHPS) and the Leadership in Energy and Environmental Design (LEED) Building Rating System.
Standard: UL 2818 -2013 Gold Standard for Chemical Emissions for Building Materials, Finishes and Furnishings
Certification Status: Certified
Certification Period: May 2006 - Today
Emission Controls for Educational and Healthcare Environments
The Greenguard Gold Certification requirements comply with the State of California's Department of Public Health Services Standard Practice for Specification Section 01350 (California Section 01350) for testing chemical emissions from building products used in schools and other environments. As such, Greenguard Gold Certified products can be used to earn valuable credits in the CHPS Best Practices Manual for K-12 schools, the US Green Building Council's LEED® Green Building Rating Systems, the Green Guide for Healthcare, the NAHB Green Building Guidelines, Green Globes, Regreen and many other building codes, standards and specifications.
---
Dust and Fibers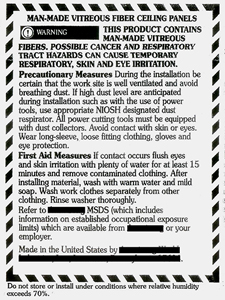 Dust, fibers, and airborne particulates can be irritating to the upper respiratory system and will adversely affect individuals with existing allergies, asthma, and respiratory diseases. Chronic exposure to high levels of dust and airborne particulates also poses a risk for people not currently experiencing any respiratory symptoms. OSHA regulates, for example, exposure to silica particles such as those released by mineral fiber ceiling products.
Testing performed by independent laboratories and in accordance with ASTM standards show that mineral fiber ceiling tiles and panels are prone to erosion that can release a shower of fibers. Ceilume products, however, do not erode in the test. For more on testing, please see the article Which Ceiling Panel Would You Hire?.
Ceilume Ceiling Tiles and Panels are 100% dust-free and fiber-free.
No dust, no fibers, no silica
Will not break or flake
Smooth, nonporous, nonabsorbent
Easy to clean, simply wipe down with a damp rag