Easily Installed around Pipes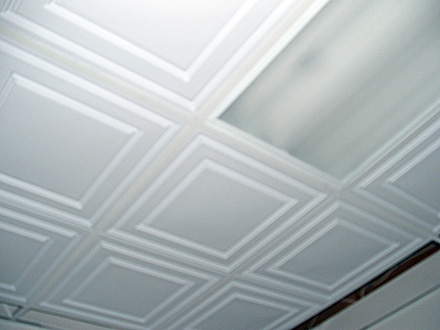 Installation Description
A drop ceiling installation using
Stratford White Ceiling Panels
.
Customer Testimonial
My project was to frame and drywall the west and south walls in a basement room we used as a schoolroom. The Ceilume tiles were the easiest part of the job. They cut smoothly for fitting around corners and a couple of pipes that could not be moved. The lightness of the tiles made installation a breeze and gentle on my tired shoulders after resetting the grid. I was so thrilled with it that I had to blog about it to my friends.
Our fourteen year old  stretched out on the floor when it was all done. Looking up at the tiles, he said, " this is like being in a fancy hotel room. The ceiling gives this room class." That's saying a lot for their schoolroom now turned into a game room.
Friends thought the tiles were made from wood!
 
Have a great day and thank you for the Ceilume tile.
-
Jane D.
Installation Tags
Suspended/Drop
;
2 x 4
;
White
;
Grid
;
Stratford
;
Basement
;
Living/Rec Room