Out of This World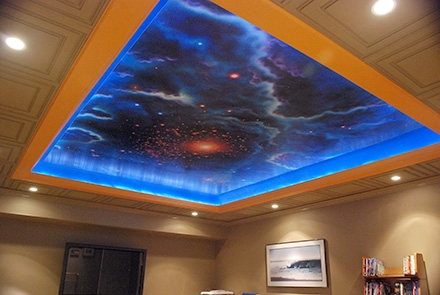 Installation Description
A drop ceiling installation using
Stratford White Ceiling Tiles
.
Customer Testimonial
We just happen to finish up our project a week ago so your email is timely and I just wanted to say you have great product, it made it so easy to upgrade the look of our theater room project without having to go through too much expense. I was able to reuse our old drop ceiling tiles behind each of your panels to provide additional sound deadening. As you will see on our pictures we painted the ceiling tiles to match the wall color and it was very easy to do with a paint sprayer. I have painted regular ceiling tiles before and it is lots of work.

I would definitely recommend your product to others and I would use them again if I have a similar project in the future.

Here are some pictures of the project, you can pick the one which you think best shows off your product.
-
Gregory P.
Installation Tags
Suspended/Drop
;
2 x 2
;
Painted
;
Border Tile
;
Recessed/Can
;
Stratford
;
Basement
;
Home Theater
;
Living/Rec Room