Drop Ceiling Skeptic to Believer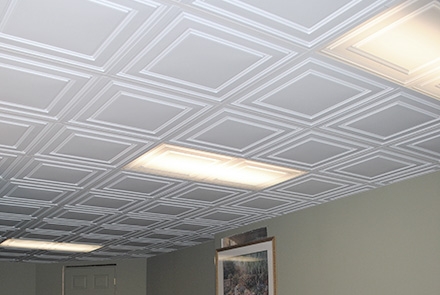 Additional Photos
Installation Description
A drop ceiling installation using
Stratford White Ceiling Tiles
.
Customer Testimonial
The project came out perfectly!! Although when my husband and I started talking about finishing our basement I was not happy at having to install a drop ceiling, I had no idea products like yours were available.  I had visions of the traditional cheap looking ceiling panels you buy at regular home improvement stores.  Definitely not what I had envisioned for by basement remodel.  I was thrilled when I found your products online.  I loved the tiles we chose as they were beautiful and very easy to install.  I'm not sure what the cost is compared to the traditional ceilings as I never priced them, but I would gladly pay the amount again to have the project turn out as it did.  I thought it was relatively inexpensive and still gave us the convenience of allowing it to be removed if we needed to do any wiring or plumbing maintenance.  

I would definitely recommend to friends and family that they try these products and most importantly - this company.  I called about 4 times before actually purchasing, and each time I got knowledgeable and friendly staff to answer my questions.  I was hesitant at first about buying online, but you and your co-workers really put me at ease answering all my questions.  The products arrived in excellent condition and right on time.

I've sent a few pics - I'm not sure they really do the ceiling justice.   Please ignore the decorating as we still have some projects to finish up and the furniture is not arranged properly, baseboard and trim is not completed -- but the ceiling looks beautiful.
-
Jodi P.
Installation Tags
Suspended/Drop
;
2 x 2
;
2 x 4
;
White
;
Translucent
;
Border Tile
;
Back
;
Stratford
;
Basement
;
Living/Rec Room