Home Town Pizzeria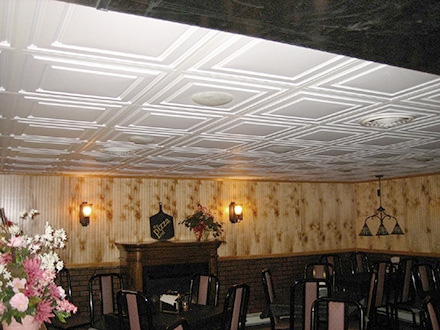 Additional Photos
Installation Description
A drop ceiling installation using
Stratford White Ceiling Tiles
.
Customer Testimonial
I was born in Peoria, Il but have lived in Colorado for the last 20 years. As a child I spent nearly every summer at my Great-Grandmother's farm North of Peoria. Fast forward to now - I am married with four children. For the the past 8 years we've spent two weeks every summer at the farm in Illinois. (it's been empty for that long) My Great-grandma passed away three years ago (she was one month away from 100) and no one wanted to take over the farm. We've wanted to live there for a long while - we ended up moving there (here) October 2008. I've been in the pizza industry for 12 years - so we found a building in a small town about 10 miles form the farm and opened a pizza restaurant. Researching ceiling options I found your website - and the rest is history. Installation was very easy. The ceiling is beautiful and we have many people compliment on how it looks. I had some left over tiles and I've given several of the tiles out to my guests along with your web address. Thank you for helping us build a successful restaurant!

We can seat about 44 in the dining room and another 44 in our banquet room. Our town has a population of about 2000 and we'll fill both rooms on Friday and Saturday night.

Thanks again for a great product! 
-
Travis G
Feel free to come by and take a look at our Ceilume installation:


The Pizza Peel, Inc.
340 5th Street
Lacon, IL 61540
Get Directions
Installation Tags
Suspended/Drop
;
2 x 2
;
White
;
Border Tile
;
Recessed/Can
;
Air Vent
;
Stratford
;
Commercial Before & After
;
Commercial Open to Public
;
Commercial Restaurant/Bar