All Green Things, Inc.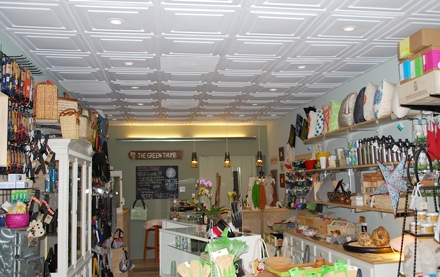 Additional Photos
Installation Description
A drop ceiling installation using
Stratford White Ceiling Tiles
.
Customer Testimonial
Ceilume is a fantastic product in so many ways!! The fact that I am a Green Company it was important to find a product that was environmentally friendly. When you are considering ceiling tiles you are limited to what you can come up with. Ceilume had several important qualities: Certified GreenGuard- you need good air quality in your work space, the tiles can be recycled, feather-light design uses fewer resources to manufacture and ship and they are Class A Fire Rated. Installation of the ceiling tiles were the easiest part of my entire construction build-out. Instant gratification! Countless compliments from my customers. If your in my neck of the woods stop in and see for yourself:
-
Tanya P.
Feel free to come by and take a look at our Ceilume installation:


All Green Things, Inc
5321 Topanga Canyon Blvd.
Woodland Hills, CA 91364
Get Directions
Installation Tags
Suspended/Drop
;
2 x 2
;
White
;
Border Tile
;
Recessed/Can
;
Air Vent
;
Stratford
;
Commercial Open to Public
;
Commercial Retail Store