Saloon and Western Antiques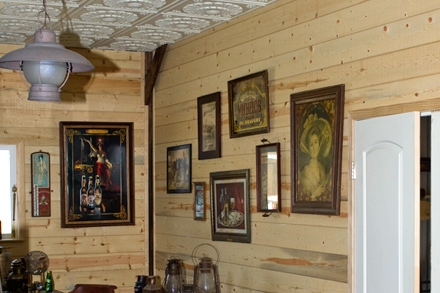 Additional Photos
Installation Description
A drop ceiling installation using
Medallion Sand Ceiling Tiles
.
Customer Testimonial
I apologize for waiting for so long to respond to your email. My husband installed the ceiling tiles right away, but I wanted to wait to email you
until I got some of my decorating done. I think you will enjoy the pictures with a few of our antiques in place rather than pictures of an empty room. We collect western and saloon antiques so we built a 12 foot by 30 foot
saloon to display them. I am very pleased with the Medallion Ceiling Tiles and my husband had no trouble installing them. I was skeptical about putting up plastic ceiling tiles instead of the old fashioned tin tiles, but now that they are in place I cannot tell they are plastic. It was definitely worth the price. Thank you for providing us with a quality product, excellent service and quick delivery.
-
Peggy B.
Installation Tags
Suspended/Drop
;
2 x 2
;
Sand
;
Medallion
;
Living/Rec Room