A New Stratford Ceiling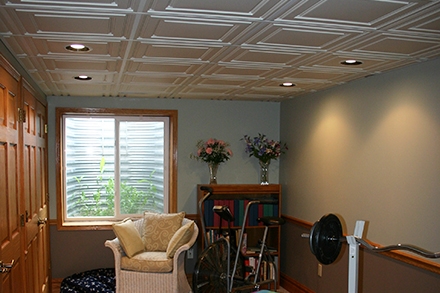 Additional Photos
Installation Description
A drop ceiling installation using
Stratford Sand Ceiling Tiles
.
Customer Testimonial
Very few times am I so happy with a product that I take the time to write to thank a company for it. As you can see by my photos this was a smaller project in the basement of my home. I needed the tile almost tight to the beam and air ducts to make a drop ceiling work. I knew the normal tile was not flexible enough to do this with and did not want to cover the plumbing and wiring in the house with drywall. This was my reason for the search for a better tile. I could not be happier with my find. as you can see I mounted cans and did lights behind the tile by the TV to reduce glare on the screen. I found the tile easy to cut, flexible enough to fit in very tight spaces and far less messy than the old kind of tile. Even as an environmental aspect I had far less waste at the end of the project and the leftover tile takes very little space to store. Even the directions on line helped as it has been about 20 years since I installed my last ceiling.

Also the service was great. I ordered right before a holiday and received an e-mail explaining the slight delay, now that is service! Thanks for a great product, and service.
-
Daniel J.
Installation Tags
Suspended/Drop
;
2 x 2
;
Sand
;
Border Tile
;
Back
;
Recessed/Can
;
Stratford
;
Basement