Classy Media Room Installation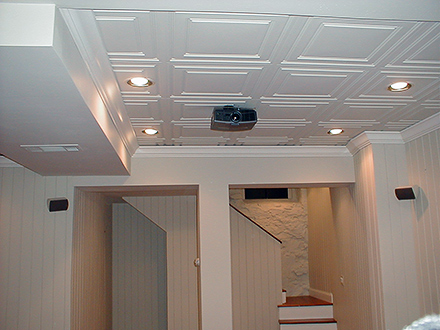 Additional Photos
Installation Description
A drop ceiling installation using
Stratford White Ceiling Tiles
.
Customer Testimonial
I just finished my installation of your Ceilume Ceiling Tiles in my media room and the results are stunning! I was originally looking for an alternative to conventional ceiling tiles in terms of design and cost. I was looking at tin ceilings, but was put off by the cost. I am always a bit skeptical when dealing with new products, but I ordered your free samples and read as much as I could online about the Ceilume products. The price advantage is what really hooked me, so I decided to try Ceilume and ordered 100 tiles.

The installation couldn't have been easier. I have dealt with standard ceiling tiles before and remember the dust involved when cutting holes or trimming them to size. With the Ceilume tiles there was no dust and I was able to cut 2 or 3 at a time with a pair of scissors! This was a big time saver.

Once my tiles were in place, I sprayed the entire ceiling the same color as my walls. This made the ceiling grid blend in completely with the tiles so they are almost invisible.

I was originally worried that the tiles might move when a door was opened or closed, but it has never happened. After the ceiling was complete I trimmed the room with crown molding, which appears to support the ceiling at the wall. Everyone who has seen the finished room comments about the ceiling. For many reasons that include price, ease of installation, lack of dust, and design options, I am very pleased with my decision to go with Ceilume ceiling tiles.
 
Thanks for doing what you do and it has been a pleasure doing business with you!
-
Robert B.
Installation Tags
Suspended/Drop
;
2 x 2
;
White
;
Painted
;
Border Tile
;
Recessed/Can
;
Projector
;
Stratford
;
Hallway
;
Home Theater