Three Season Room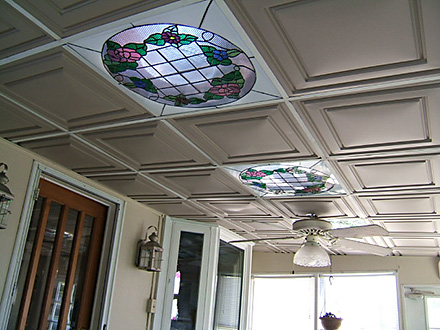 Additional Photos
Installation Description
A drop ceiling installation using
Stratford Latte Ceiling Tiles
.
Customer Testimonial
I have been thrilled with the tiles.  I can't say enough good things about them.  As you can see from the pictures they have been installed in a 3 season room off the back of the house. Living in Wisconsin that room does take a beating from the weather. The problem I had with the old tiles was humidity, sagging tiles and no way to clean them.  

The ease of installation was unbelievable compared to standard tiles. They are light, easy to handle and just snap in place.  Believe me if grandma can do it anyone can.  Actually I am very proud of the ceiling I finished myself.  

This job went so good that I am considering redoing the basement laundry - work room.  Again I have standard ceiling tiles that are getting a little shabby.  So I am sure that my next home remodeling project will be that ceiling.  

I am so glad that I found your site online.
-
Roberta O.
Installation Tags
Suspended/Drop
;
2 x 2
;
Latte
;
Border Tile
;
Ceiling Fan
;
Stratford
;
Sun Room