Environmentally Friendly Design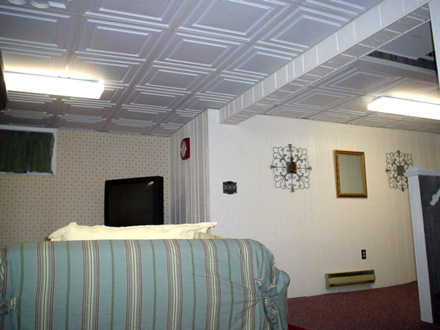 Additional Photos
Installation Description
A drop ceiling installation using
Stratford White Ceiling Tiles
.
Customer Testimonial
We recently began renovating our basement. The basement was quite dark with wood paneling, recessed lighting, and mineral fiber ceiling tiles. The mineral fiber tiles had been there for a long time and were put there by the previous homeowner. The old tiles were stained, crumbling, and very dusty. We knew that we wanted something different for our ceiling. I had seen the aluminum tiles and thought they were interesting, but much too expensive. When I found your site, my fiance and I were thrilled! Not only are your tiles waterproof, light-weight for easy installation, and a clean white color, they are also environmentally friendly! That sold us - and we told all of our friends.

So far, we have repainted our basement, had an electrician install new lights, and of course, put in our new Ceilume tiles. It looks so GREAT! The next step is to have glass brick/block installed as windows. Thank you for such a great, affordable product!
-
Alicia F.
Installation Tags
Suspended/Drop
;
2 x 2
;
White
;
Border Tile
;
Stratford
;
Basement
;
Before & After
;
Living/Rec Room
;
Commercial Before & After