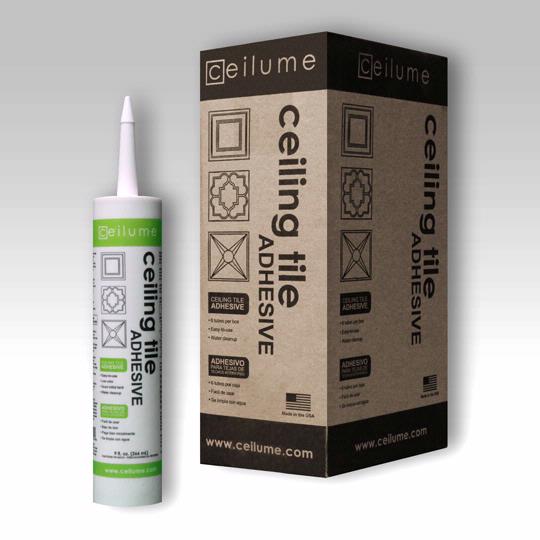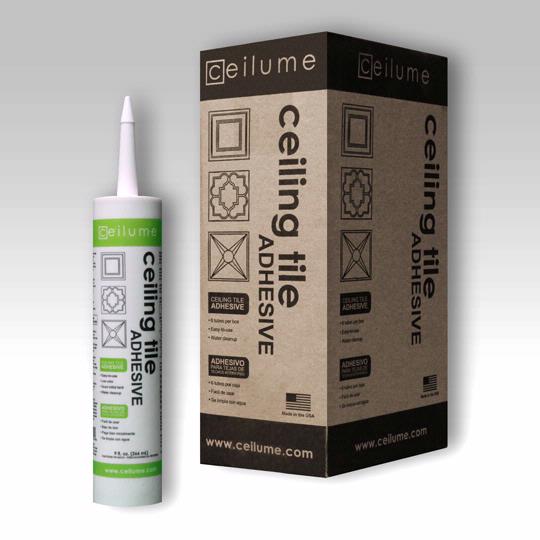 Ceiling Tile Adhesive
Case of 6 Tubes
$8.33
/ tube
$49.95
/ case
Ships free!
Need help? Call us at 1-800-557-0654.
Install Type:
Glue-up
Size:

9 fl. oz. (266 mL)

Color:

White

Quantity:

case



Subtotal:

This product is temporarily in limited stock and may delay your order up to 0 weeks.
09/21/2017

Call 1-800-557-0654 to request a free sample!
Hours: 8:00 - 4:30 PM, Pacific

Share this item:
Formulated specifically for ceiling tiles, Ceilume's Ceiling Tile Adhesive gives you better adhesion, better coverage, and more confidence that you are using the right product for your job!
USE WITH: vinyl, PVC, mineral fiber/acoustic, wood fiber, tin, and polystyrene ceiling tiles per the manufacturer's instructions. Not recommended for styrofoam tiles.
ADHERES TO: sheetrock, wallboard, plywood, plaster, cement, and mineral fiber/acoustic tiles. Primed or painted surfaces preferred.
Case of 6 Ceiling Tile Adhesive Tubes
Covers approximately six 2 x 2 ceiling tiles per tube
Includes one Clean-Cut Caulk Cutting Tool per order
thinking about putting this in my motorhome ceiling , is heat a problem for the adhesive? thank you
Heat in excess of 120 degrees can cause this adhesive to release and the inside of your motor home could easily exceed that temperature on a hot day. We do not recommend using this adhesive for your motor home ceiling project.
Date published: 2017-07-29
How much will these cost?
Well, that depends! Our ceiling tile prices are based on the total number of items (tiles and accessories) in your cart. The more you buy, the cheaper they get!