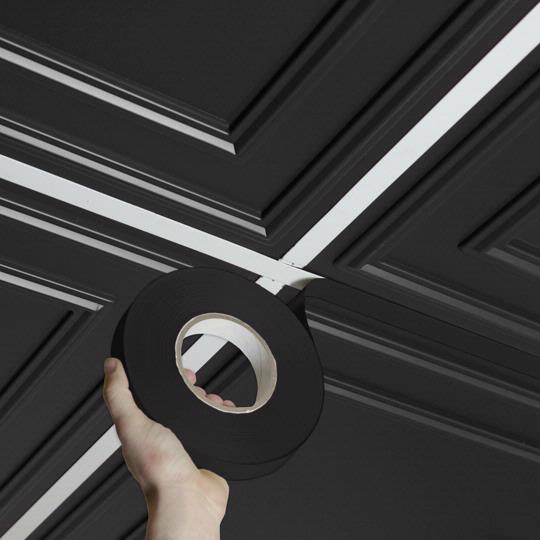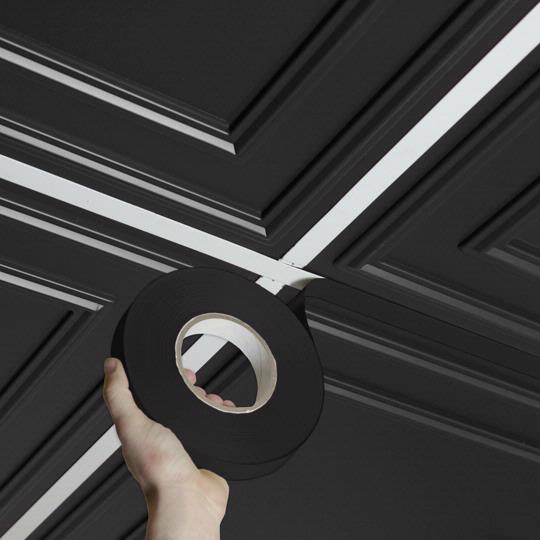 Grid Tape Black
Roll of 100 ft. of Tape
$0.47
/ ft.
$46.50
/ roll
Ships free!
Need samples? Call us at 1-800-557-0654.
Install Type:
Standard 15/16" - 1" Drop
Size:

1 in. x 100 ft.

Color:
Quantity:

roll



Subtotal:

This product is temporarily in limited stock and may delay your order up to 0 weeks.
01/16/2018

Call 1-800-557-0654 to request a free sample!
Hours: 8:00 - 4:30 PM, Pacific

Share this item:
Product Overview
Ceilume's Grid Tape is designed to cover the T-bar drop ceiling grid in suspended ceiling tile installations. Self-adhesive and easy to trim with household scissors, this tape will make your T-bar grid disappear, leaving nothing to detract from your new beautifully crafted, custom ceiling.
Installation Type: Standard 15/16-1 in. grid
Dimensions 1 in. x 100 ft.
Material: 0.013 in. thick, rigid vinyl plastic with adhesive backing
Warning: Not recommended for installation where ceiling temperatures exceed 120°F
Please note: The drop ceiling grid must be dry and free of dust, oils, and contaminants before installation.
Product Pricing
Our prices are based on the total number of items (both tiles and accessories) in your shopping cart. The more items in your cart, the cheaper the price.
The easiest way to figure out item pricing is to either (a) put everything in your cart and we'll break it down for you, or (b) adjust the quantity of items on the product page above and watch the price change automagically. Alternatively, check out the table below to see all of our price breaks and prices for this product all at once (the yellow highlights the correct pricing, based on the quantity of items you have entered above and what is already in your shopping cart).