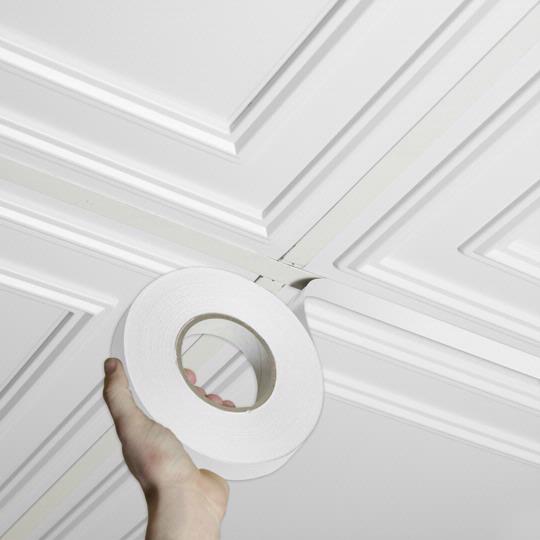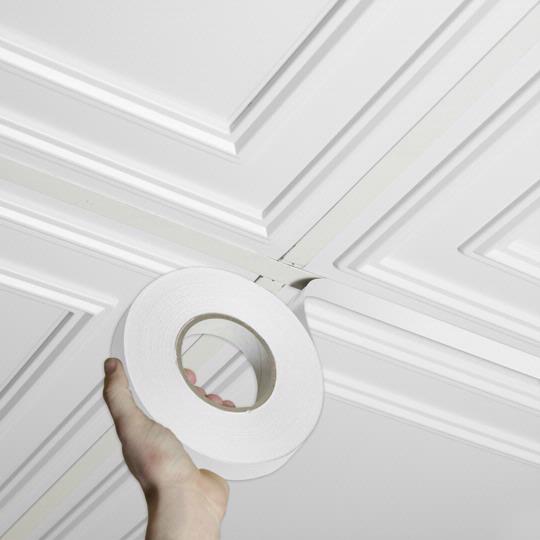 Grid Tape White
Roll of 100 ft. of Tape
$0.38
/ ft.
$37.50
/ roll
Grid Tape White
is rated out of
5
by
4
.

Ships free!

Need samples? Call us at 1-800-557-0654.
Install Type:
Standard 15/16" - 1" Drop
Size:

1 in. x 100 ft.

Color:
Quantity:

roll



Subtotal:

This product is temporarily in limited stock and may delay your order up to 0 weeks.
02/23/2018

Call 1-800-557-0654 to request a free sample!
Hours: 8:00 - 4:30 PM, Pacific

Share this item:
Product Overview
Ceilume's Grid Tape is designed to cover the T-bar drop ceiling grid in suspended ceiling tile installations. Self-adhesive and easy to trim with household scissors, this tape will make your T-bar grid disappear, leaving nothing to detract from your new beautifully crafted, custom ceiling.
Installation Type: Standard 15/16-1 in. grid
Dimensions 1 in. x 100 ft.
Material: 0.013 in. thick, rigid vinyl plastic with adhesive backing
Warning: Not recommended for installation where ceiling temperatures exceed 120°F
Please note: The drop ceiling grid must be dry and free of dust, oils, and contaminants before installation.
Product Pricing
Our prices are based on the total number of items (both tiles and accessories) in your shopping cart. The more items in your cart, the cheaper the price.
The easiest way to figure out item pricing is to either (a) put everything in your cart and we'll break it down for you, or (b) adjust the quantity of items on the product page above and watch the price change automagically. Alternatively, check out the table below to see all of our price breaks and prices for this product all at once (the yellow highlights the correct pricing, based on the quantity of items you have entered above and what is already in your shopping cart).
How do you figure the number of rolls you will need for the amount of grid you have?
You'll need about 1 roll of Ceilume Grid Tape for every 80 sq ft of ceiling area. That works out to about 20 each of the 2'x2' tiles or 12 each of the 2'x4' tiles. Please make sure that you follow the enclosed installation directions to insure that the Grid Tape adheres properly for a long lasting installation.
Date published: 2017-10-05
Rated

5

out of

5
by
Laurie Pyle
from
We are beyond thrilled with our Ceilume tile purchase and absolutely love the finished, installed look. We have received many compliments on how beautiful and professional the ceiling looks. My husband and I installed the ceiling ourselves and it was a breeze, not to mention the money we saved from not having a contractor install it! The decorative grid tape was the icing on the cake. It matches the tile color perfectly and again saved us the cost of having the grid painted. Thank you for such a wonderful, easy to use product and outstanding customer service. We are telling everyone to use Ceilume for their ceiling projects.
Date published: 2013-10-24
Rated

5

out of

5
by
James Nussbaumer
from
This was on a new installation. I first put up the Tin tiles with the white grid and it looked unfinished. I then ordered the tape and was amazed how much improved the look was. The color and texture is identical to the tiles. It was easy to put up - but I had to take great care to keep the tape centered on the grid. The tape is a little wider than the grid - but there are spots where I can stand back and see just a slight streak of white if I am looking for it. I don't think the average person will ever notice it - I am just pickier because I saw it as I was putting it up. Still, it is a great product, and makes the room look more finished and classier. I am very pleased.
Date published: 2012-12-15
Rated

5

out of

5
by
Gill Williams
from
Our grids were dirty looking even after we cleaned them. Decided to give this a try. We found it slightly frustrating to put on. Just hard to keep perfectly lined up for long spans. Made the ceiling look much better!! We have had it up for over 4 years with no problems.
Date published: 2017-02-07
Rated

4

out of

5
by
Tman
from
Works and looks great.
I bought and used this tape to make grids on a replacement window. Apllied to the inside of a double paned and it looks very good. I did have to trim it to .750 wide but was easily done with a sharp utility knife.
Date published: 2017-09-08