Two Happy Pastors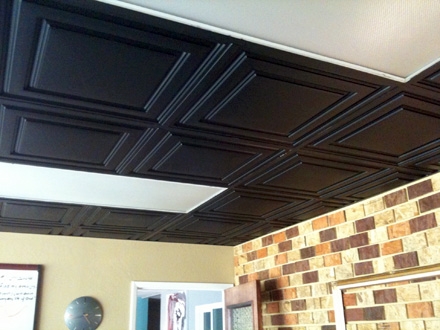 Additional Photos
Installation Description
A drop ceiling installation using
Stratford Sand Ceiling Panels
.
Customer Testimonial
We recently remodeled the offices of our Lead and Worship Pastors. WestGate is a fairly large church and the demands on our pastors are pretty high. Our goal was to create office spaces which could be presentable, but not too ostentatious for meetings and also be a comfortable working environment. The building was built over 40 years ago and previous ceiling was extremely old acoustical tile.

Our installation went very well. My facility crew found the tiles easy to work with  The product performed as I expected and I have two very happy pastors!  Here's a few photos from my phone.
-
Terrence T.
Feel free to come by and take a look at our Ceilume installation:


WestGate Church
1735 Saratoga Avenue
San Jose, CA 95129
Get Directions
Installation Tags
Suspended/Drop
;
2 x 4
;
Sand
;
Black
;
Border Tile
;
Back
;
Stratford
;
Commercial Church/School