Too Beautiful?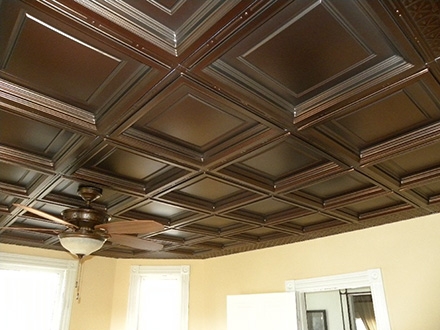 Additional Photos
Installation Description
A glue-up ceiling installation using
Continental Faux Bronze Ceiling Tiles
,
Madison Faux Bronze Ceiling Tiles
,
Evangeline Faux Bronze Ceiling Tiles
, and
Decorative Strips
.
Customer Testimonial
Appreciate the followup and I'm pleased to report that the installation of the Better Than Tin ceilings was very straightforward and the end product looks GREAT!!! At first look, the new Better Than Tin ceiling is almost too nice to be in a bedroom, it looks that good. A great product, easy to install (we did all the work ourselves), and we like how it compliments the other Victorian features around the house.    Definitely worth the price.  Again, the before and after is like night and day - - - and it now sets that area in the hallway off as a "room" of its own. The "nail-up" installation was just as straightforward as the drop ceiling, no problems at all. Ordering and delivery were flawless, great job. Needless to say we are very pleased with the Better Than Tin ceilings. They've helped take our "new Victorian" up another notch - - - and we are now considering them for a couple additional rooms. 
-
John G.
Installation Tags
Glue/Nail Up
;
Suspended/Drop
;
2 x 2
;
Bronze
;
Border Tile
;
Coffered
;
Decorative Strips
;
Surface Mount
;
Ceiling Fan
;
Continental
;
Evangeline
;
Madison
;
Bedroom
;
Before & After
;
Hallway