Kitchen Makeover in 2 Days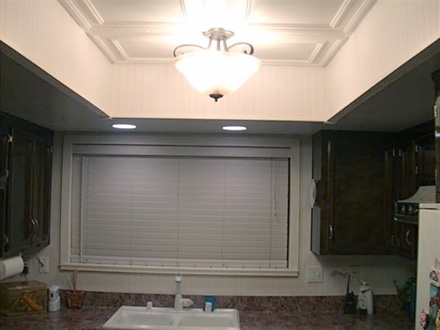 Installation Description
A glue-up ceiling installation using
Cambridge White Ceiling Tiles
, and
Decorative Strips
.
Customer Testimonial
This is the second project I have done in my home with your ceiling tiles.  My home was built in 1980 and had the traditional 4'x8' recessed light well in the kitchen with the four plastic panels mounted flush with the ceiling.  Too much HGTV for my wife and she wanted something done to change it.  I wasn't interested in a major kitchen remodel so I made my own plan for a change. 
 
I removed all the wood trim holding up the plastic panels and removed the fluorescent light fixtures.  A sheet of masonite to cover the ceiling of the well, 2 new light fixtures and on went your tiles.  Matching beadboard on the sides of the well, new trim and walla, it was done in 2 days and we think it looks great!
 
Thanks for making a great product that is reasonable in price.
-
Don C.
Installation Tags
Glue/Nail Up
;
2 x 2
;
White
;
Decorative Strips
;
Surface Mount
;
Cambridge
;
Kitchen