Some Installation Tips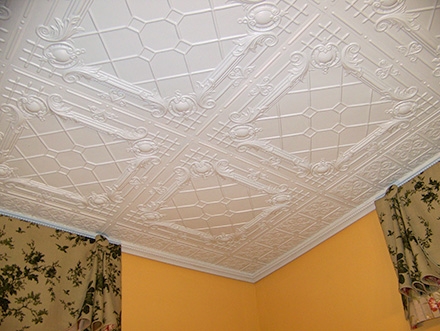 Additional Photos
Installation Description
A glue-up ceiling installation using
Fleur-de-lis White Ceiling Tiles
,
Bentley White Ceiling Tiles
, and
Decorative Strips
.
Customer Testimonial
We installed the first ceiling (we're doing 3 all together) and it went very well.  We adapted some installation techniques - put 5 squares of double stick foam tape on the back side of the tiles (center spot and then out about 4" in a box configuration) before putting on ceiling.  This kept the tile in place prior to stapling but also kept the centers from "sagging".  We spray painted the tiles prior to installation and then painted the strips on site.  We're quite pleased with the results - see attached photos.  Thanks for a great product.
-
Judy S.
Installation Tags
Glue/Nail Up
;
2 x 2
;
White
;
Painted
;
Border Tile
;
Decorative Strips
;
Bentley
;
Fleur-de-lis
;
Dining Room