Remodeled Historic Building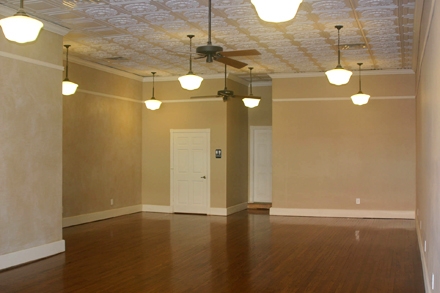 Additional Photos
Installation Description
A drop ceiling installation using
Stratford White Ceiling Tiles
, and
Medallion White Ceiling Tiles
.
Customer Testimonial
We remodeled the Adler Building, which was built in 1893 in Historic Downtown
Guthrie, OK. Guthrie was the first capital of Oklahoma and is on the National Historic Trust registry as the largest contiguously restored Victorian city in the United States. The building had gone through many remodels, but none of them had restored it historically. Air conditioning had been added and a drop ceiling had been installed.  The Ceilume Ceiling Tiles were just the answer to restore the historic look with minor modifications. Everyone that walks in the building comments on the wonderful "tin" ceiling.
We have inspired more of the historic building owners to consider installing the Ceilume tiles.
-
Elayne S.
Installation Tags
Suspended/Drop
;
2 x 2
;
White
;
Border Tile
;
Air Vent
;
Ceiling Fan
;
Medallion
;
Stratford
;
Before & After
;
Commercial Before & After
;
Commercial Retail Store