Striking Kitchen Ceiling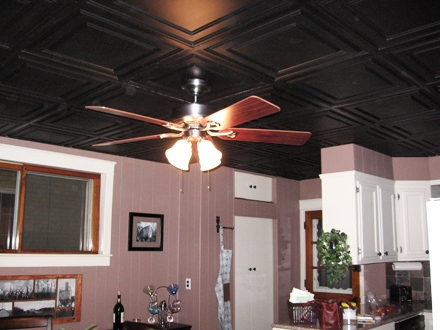 Additional Photos
Installation Description
A drop ceiling installation using
Stratford Black Ceiling Tiles
.
Customer Testimonial
See the pictures of my kitchen that I used your tiles in.
What a transformation!!! The product was very very easy to use and very easy to cut and install. I just traced out the old tiles onto the new and took my scissors and cut to fit. The whole kitchen took me about 2 hours. I had looked into doing a tin ceiling but the cost was about 4 times as much as these tiles. That's not really cost effective for a single home owner. My realtor is a good friend of mine and thinks changing out the tiles was a great idea and a beautiful option. All my neighbors have drop ceilings as well and I'm sure will be ordering some for their houses. I have an office that I'm remodeling and need to keep the drop ceiling so I'll be placing another order shortly. Thanks again for helping me with the kitchen and giving me an option other than having the expense of dry walling my ceiling for $4000. Thanks again!
-
Carly D.
Installation Tags
Suspended/Drop
;
2 x 2
;
Black
;
Border Tile
;
Ceiling Fan
;
Stratford
;
Before & After
;
Dining Room
;
Kitchen
;
Commercial Before & After