Dramatic Change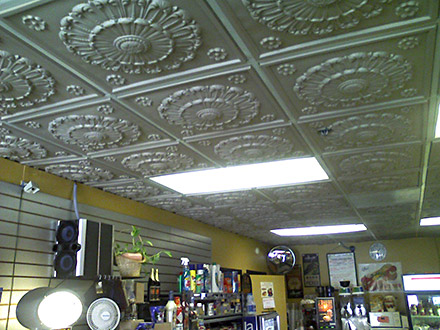 Additional Photos
Installation Description
A drop ceiling installation using
Medallion Latte Ceiling Tiles
.
Customer Testimonial
The tiles we put in were quite possibly the best improvement we've made to our store. The change in tiles was dramatic, and flat out amazing.  I wish I had a before and after picture to show you the day and night difference.  When people walk into the store now, the ceiling is the first thing they notice, where as before it was just the bland mineral fiber tiles that made the store filthy with dust.

The tiles worked perfectly, even the ones I had to cut to fit in tight spots.  And the fact that your guys' ceiling tiles were at least 50% less than any other tile replacement options was just another reason to be happy.  The tiles are absolutely amazing.

I was so impressed with your product and customer service that I'd recommend Ceilume tiles to anyone who would want to upgrade their dropped ceiling.
-
Tyler D.
Installation Tags
Suspended/Drop
;
2 x 2
;
Latte
;
Air Vent
;
Sprinkler
;
Medallion
;
Commercial Grocery Store
;
Commercial Retail Store