Worth the Effort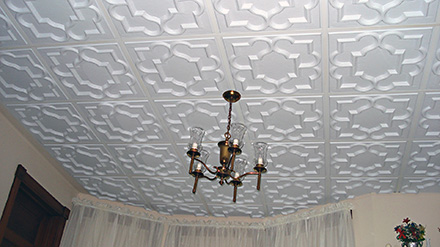 Additional Photos
Installation Description
A drop ceiling installation using
Victorian White Ceiling Tiles
.
Customer Testimonial
I am very pleased with the Ceilume tiles.

Your tiles replaced an existing 2x4 system that had become warped due to humidity over the years.  The replaced tiles were a composite and were the type generally available in large home improvement stores.

Ceilume tiles were first noticed on a Food Network show and your company came up in an Internet search.  Your website was comprehensive and provided all the information necessary to make a decision.  Your offer for the sample tiles made it very easy to make a decision regarding style. 

When the original ceiling was installed, a perimeter was constructed to account for irregularities in the dimensions of the room. (12' 9" wide)  The room also has a bay window.  This presented a problem.  The old tiles were used as a template to cut the Ceilume tiles to fit these irregular spaces in the grid at the bay window.  It took a lot of planning, time and it was tedious.  The design I chose was not the easiest to work with.  The tiles you offer for these irregular spaces would have made the room look unbalanced.  However, the results were worth the effort.

The installation of the tiles was unbelievably easy. The old composite tiles chipped and flaked during the initial installation and when they were removed.

I took the opportunity to try latex paint on the samples.  Again, the results amazed me.  It was interesting to note that you now offer colors.

Some of the tiles were damaged in transit and your customer service department was very accommodating.  I would suggest that someone consider using bubble wrap or Styrofoam to protected the corners of the tile.
-
John C.
Installation Tags
Suspended/Drop
;
2 x 2
;
White
;
Victorian
;
Before & After
;
Living/Rec Room
;
Commercial Before & After