Let's Sell Millions!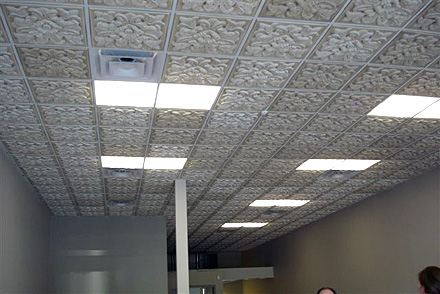 Additional Photos
Installation Description
A drop ceiling installation using
Florentine White Ceiling Tiles
.
Customer Testimonial
Good morning!  I just finished installing your tiles in a store ceiling in Regina SK - Canada. I also had painted them in a color to match the walls.  I would be very interested in working with you to develop the Canadian market. Had you any plans in that direction?  I am a cabinet maker and spray painter/finisher and it's spring - a very busy time for me. The company I work with would also be interested, so local display space is available - if that is necessary. Or perhaps i could just arrange showing local distributors, national distributors, etc.  Ahhhh - lets just sell a hundred million of em - I like em!
-
Reggie B.
Installation Tags
Suspended/Drop
;
2 x 2
;
Painted
;
Air Vent
;
Florentine
;
Commercial Retail Store