Loves the Look and the Price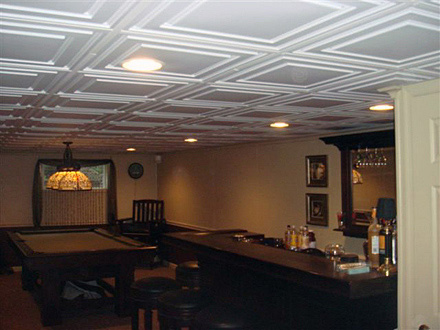 Additional Photos
Installation Description
A drop ceiling installation using
Stratford White Ceiling Tiles
.
Customer Testimonial
We are absolutely thrilled with the Ceilume ceiling tiles.  We have had so many compliments.  They are one of the first things that people comment on when they walk into the basement.  My contractor raves about them and said he'd never go back to using the "other" type of tiles.  As you can see, we were even able to hang the light over the pool table by cutting out a small hole for the hanging fixture and wiring.  Please feel free to share the photos on your website.

I am so glad I found Ceilume, your product cost half of what traditional ceiling tiles would have and the look and durability is far superior.

Thanks for all your help.
-
Cindy S.
Installation Tags
Suspended/Drop
;
2 x 2
;
White
;
Border Tile
;
Recessed/Can
;
Stratford
;
Basement