Search Results
Your search for
2 x 4
has produced 49 results on 17 pages.
Goodbye Mineral Fiber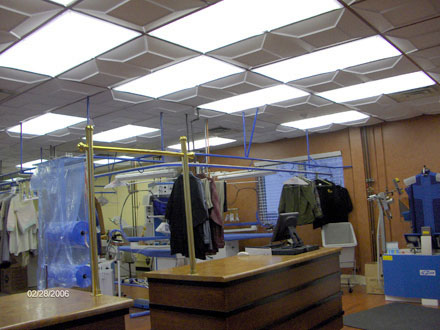 Installation Description
A drop ceiling installation using
Convex White Ceiling Panels
.
Customer Testimonial
The ceiling tiles are in a dry cleaning shop outside Chicago.  Everybody likes them, even the building inspectors!  There were drop ceiling tiles already in place - dirty and yellowed - I just painted the grids and inserted the Ceilume under the mineral fiber panels. Some had to be stapled together but it was worth it. In a dry cleaners, the humidity and dust yellow up the fiber panels quickly, with yours, I can clean as needed and the panels look especially good with the T-8 lights.
-
Ralph V.
Feel free to come by and take a look at our Ceilume installation:


Royal Cleaners Inc
1120 Aetna Street
Gary, IN 46403
Get Directions
Installation Tags
Suspended/Drop
;
2 x 4
;
White
;
Translucent
;
Back
;
Air Vent
;
Convex
;
Commercial Open to Public
;
Commercial Retail Store