Search Results
Your search for
Dining Room
has produced 13 results on 5 pages.
Striking Kitchen Ceiling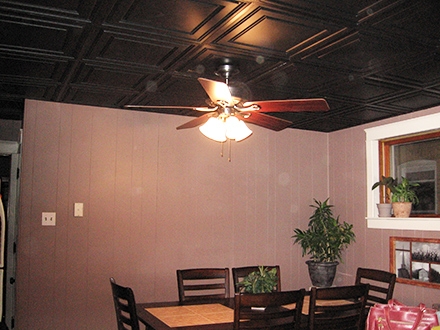 Additional Photos
Installation Description
A drop ceiling installation using
Stratford Black Ceiling Tiles
.
Customer Testimonial
See the pictures of my kitchen that I used your tiles in.
What a transformation!!! The product was very very easy to use and very easy to cut and install. I just traced out the old tiles onto the new and took my scissors and cut to fit. The whole kitchen took me about 2 hours. I had looked into doing a tin ceiling but the cost was about 4 times as much as these tiles. That's not really cost effective for a single home owner. My realtor is a good friend of mine and thinks changing out the tiles was a great idea and a beautiful option. All my neighbors have drop ceilings as well and I'm sure will be ordering some for their houses. I have an office that I'm remodeling and need to keep the drop ceiling so I'll be placing another order shortly. Thanks again for helping me with the kitchen and giving me an option other than having the expense of dry walling my ceiling for $4000. Thanks again!
-
Carly D.
Installation Tags
Suspended/Drop
;
2 x 2
;
Black
;
Border Tile
;
Ceiling Fan
;
Stratford
;
Before & After
;
Dining Room
;
Kitchen
;
Commercial Before & After
Better Than Tin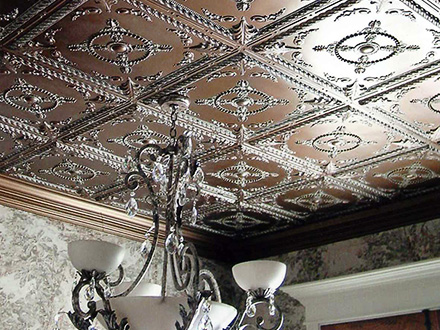 Installation Description
A glue-up ceiling installation using
Alexander White Ceiling Tiles
, and
Decorative Strips
.
Installation Tags
Glue/Nail Up
;
2 x 2
;
Painted
;
Decorative Strips
;
Alexander
;
Dining Room
Plaster Ceiling without Plaster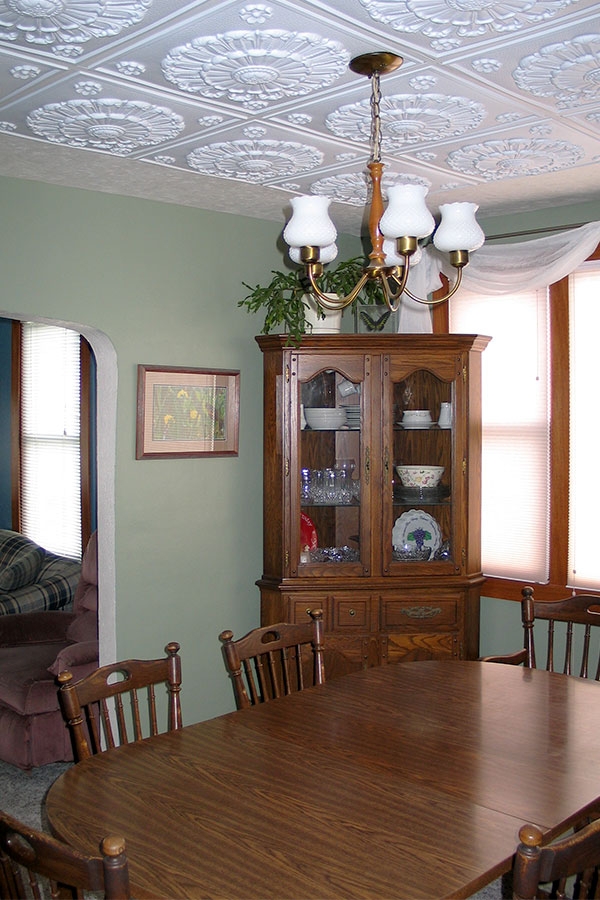 Additional Photos
Installation Description
A drop ceiling installation using
Medallion White Ceiling Tiles
.
Customer Testimonial
My project turned out wonderfully. I installed the medallion tiles and for the perimeter I used a textured wall paper right over the old primed drop ceiling tiles. Like I said, it looks really great. In fact, company that's never seen our ceiling before thought the ceiling was a plaster cast that was actually original to the home (we live in an older house).

I left the old existing drop ceiling tiles in place along the outside edge. Where possible, I removed metal brackets that were not part of the ceiling support structure. Then to smooth things out, I used joint compound where metal brackets of the grid touched the old tiles. This way when I put up the wall paper it would not be so obvious where I still had metal brackets. When I feathered out the joint compound between brackets and tiles to my satisfaction,  I used a high quality sealer primer (Bin 1-2-3) over all of that.

The wall paper was a heavier paper, designed to go over paneling or cracked plaster walls and hide what was beneath it. I don't remember the
brand off hand, but I bought that at Menards. For some of my seams, I had to touch things up with a little white caulk, which blended in very nicely.

If I look hard or if the lighting is just so, I can see where I have metal brackets behind the wall paper, but it really isn't too noticeable for sure. It might just appear to be a ceiling joist behind plaster to someone who doesn't know - if they can see it at all.
-
John H.
Installation Tags
Suspended/Drop
;
2 x 2
;
White
;
Medallion
;
Dining Room