Search Results
Your search for
Westminster
has produced 1 result on 1 page.
Revive the Look of Historic Spaces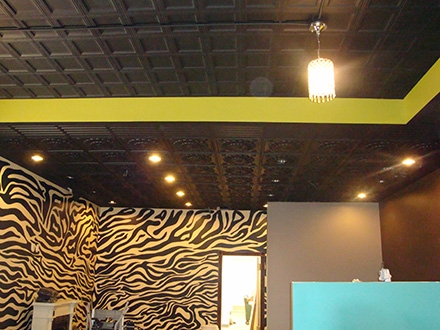 Additional Photos
Installation Description
A drop ceiling installation using
Southland Black Ceiling Tiles
,
Stratford Black Ceiling Tiles
,
Medallion Black Ceiling Tiles
,
Westminster Black Ceiling Tiles
, and
Roman Circle Black Ceiling Tiles
.
Customer Testimonial
The ceilings we have done recently with your product don't just look good - they look awesome!  The product is very easy to work with and has helped us revive the look and feel of some historic spaces we are renovating.  We would recommend this product for anyone looking for a unique way to modify and renovate their ceilings.
 
Here are some photos of commercial applications where we have used your product.
 
Thanks and we will be in touch on future projects.
-
Bret A.
Installation Tags
Suspended/Drop
;
2 x 2
;
Black
;
Paintable White
;
Painted
;
Border Tile
;
Recessed/Can
;
Surface Mount
;
Ceiling Fan
;
Medallion
;
Roman Circle
;
Southland
;
Stratford
;
Westminster
;
Commercial Before & After
;
Commercial Hotel/Motel
;
Commercial Retail Store