Search Results
Your search for
Regency
has produced 1 result on 1 page.
Rave Reviews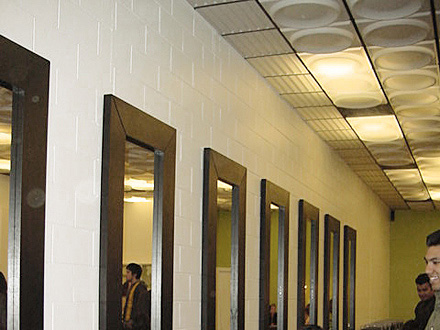 Additional Photos
Installation Description
A drop ceiling installation using
Regency Translucent Ceiling Tiles
, and
Southland Translucent Ceiling Tiles
.
Customer Testimonial
We were written up in the Willow Glen Resident (Newspaper). They said our ceiling looked like bubble wrap. I'll send photos. The lighting is not what we wanted but because of the ducting, we just pretend its just the  way we planned it. And, everyone raves about it. We love the product for all the reasons listed in you product pamphlet. Especially, the green and allergy items.
-
Amber and Krista L.
Feel free to come by and take a look at our Ceilume installation:


di Moda Salon
1060 Lincoln Avenue
San Jose, CA 95125
Get Directions
Installation Tags
Suspended/Drop
;
2 x 2
;
Translucent
;
Border Tile
;
Back
;
Regency
;
Southland
;
Commercial Open to Public
;
Commercial Salon/Spa