Search Results
Your search for
Commercial Before & After
has produced 19 results on 7 pages.
Theater Ready for Premiere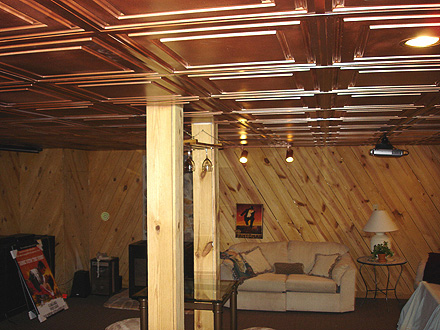 Additional Photos
Installation Description
A drop ceiling installation using
Stratford White Ceiling Tiles
.
Customer Testimonial
This was and is an old basement but certainly your product has dressed it up considerably. 

Believe it or not, we spray painted all the tiles with cans of paint since we could not find a color we liked in large quantity.  We used the Rustoleum hammered copper and we really do like it.  The name of the color is on the back of the can in very small print.  It had the shine we thought we needed.  Actually, we did try several other colors before deciding on this particular one.  

This room has worn many hats through the years but has always been a home theater room... long before home theaters evolved.  At the same time it has been an exercise room, wine storage, foos ball and pinball with darts.  The children grew up and now it's just wine and movies.  Everyone who sees it, has liked it and has planned a use for it.  Unfortunately, not everyone takes the time to paint and install so those same guys installing those ugly white perforated ceilings should be talking these up to their customers.  

Your help was invaluable.  We so appreciate you.  We think you have a wonderful product and hope the best for you. Thanks again for all your help. 
-
Robert C.
Installation Tags
Suspended/Drop
;
2 x 2
;
Painted
;
Border Tile
;
Recessed/Can
;
Track
;
Projector
;
Stratford
;
Basement
;
Before & After
;
Home Theater
;
Living/Rec Room
;
Commercial Before & After