Search Results
Your search for
Merlot
has produced 13 results on 5 pages.
New Dance Studio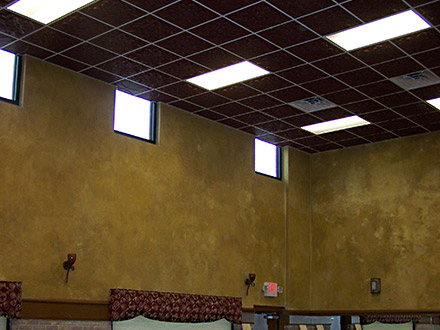 Installation Description
A drop ceiling installation using
Florentine Merlot Ceiling Tiles
, and
Orb Merlot Ceiling Tiles
.
Customer Testimonial
The installation of the Ceilume tiles was a breeze for the contractor - he had to install them using scaffolding, as our ceiling is 17' height - the light weight of the boxes and having 50 per box was perfect for him. All he did was pop the basic white tile into the Ceilume, placed thru the grid and within seconds it was in.

We've been taking lots of interior pictures of the new dance studio (www.onpointedancestudio.com) but due to the ceiling height, the typical picture does not do justice to your product... However when new clients and our dance instructors walk into the studio they pretty much gasp at how great the ceiling looks.

Attached is a shot we took a couple weeks ago getting the floor cleaned and doing molding work... you can get an idea of the room, but like I said no justice in the picture to your product.The detail of the floral design gets challenged by a lot of people (they think its the old fashion tin style) so we keep a sample nearby and they are amazed. We mention the product by name as well.
-
John F.
Installation Tags
Suspended/Drop
;
2 x 2
;
Merlot
;
Border Tile
;
Air Vent
;
Florentine
;
Orb
;
Commercial Gym